About Us
PUMP POCKET™ is a better way to wear your pump because you're not a kangaroo and you deserve to play FREE
Our vision is to empower those pumping insulin to play free.
Our mission is to develop a new fit that makes pump-wearing easy and seamless.
"Where am I supposed to put this thing"?
Since the discovery of Insulin 100 years ago, medical advances have enabled those with T1D (Type One Diabetes) to live healthier, better lives.
The INSULIN PUMP is one innovation that gives more freedom and control than ever before. YAY!
BUT, humans were not designed to carry their pancreas on the outside. "Then", you might ask, as did our own son when he got his first pump, "Where am I supposed to put this thing?"
Pocket T1D and Play Free
So, because people were not created with kangaroo pockets, children and adults with T1D can struggle with where to secure their insulin pump when playing or exercising.
Exposed tubes get caught, sites get pulled out (Ouch!). Pumps fly out of pockets and smash on the ground. Receivers get lost somewhere on the field.
PUMP POCKET™ garments are designed with multi specialized pockets that hold an insulin pump and/or receiver all day long, whether it's on the playground or on the trampoline.
Shop all Collections
With your pump in your pocket, there is no telling how far you will go!
How we make our garments
Each Pump Pocket garment is designed to the max. We make amazing garments that are, functional, comfortable, and Eco-friendly to boot!  Yup, all our products are made locally, right here in Ontario, Canada at a local factory within driving distance of us.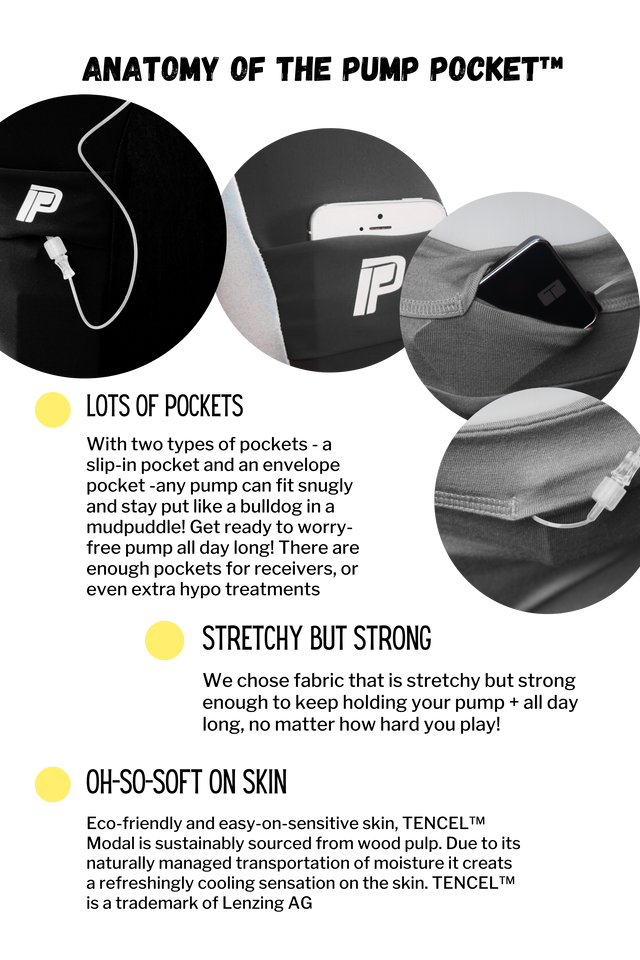 What our customers say about us
"I love that I can do flips on the trampoline, and my pump stays in my Pump Pocket"
Peter, Age 14
I just got my first pair of pump pocket boxer briefs and they are the best pair of boxers I have put on. Incredible feel and fit before you even consider the pump pocket. Obviously... that's another huge win! Nice job Pump Pocket.
Chris Jarvis

Tester
My daughter is T1 and got her the free pair and she loves them.Comfortable and easy to wear while making the pump easier and more discreet to wear.Excellent product I cannot recommend enough.
Jeremy Stewart

Customer
With your pump in your pocket, there is not telling how far you will go
Welcome to the Club
As parents of a T1D champ, we know what it's like to care for someone with diabetes.
We continue to make our products based on feedback and suggestions from real T1D warriors.
Sign up to get our newsletter below to keep up with the our latest news and join the conversation on how we can serve you better.